1. Shoe game
This highly popular Indian wedding game is super fun and adorable to play. While the bride and groom play this, it's equal joyous and a laughter riot for everybody watching them play it. In this game, the couple sits back-to-back holding their shoe in one hand and their partner's shoe in the other. They are then asked questions and statements related to them and their relationship to which the couple has to reply to raising the shoe for who matches those statements the most. Don't forget to include some 'spilling the beans' kind questions to get the game exciting and as much fun as possible. If not with the shoes, the couple can also play with placards of their faces and use them for answering.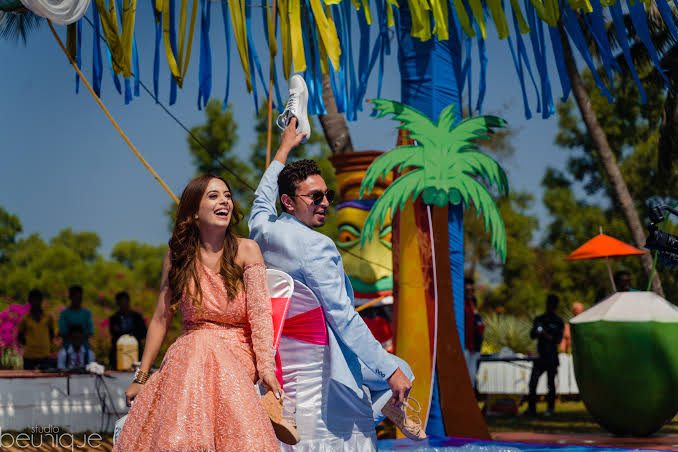 2. Tug-of-war
Yet another game that can be played amongst the bride squad and the groom squad, tug-of-war is one of the best Indian wedding games. As kids, you've always loved playing it and we're sure you're going to love playing that at weddings too! To add a bit more fun you can have punishments for the losing team or prizes & gifts for the winning team as well.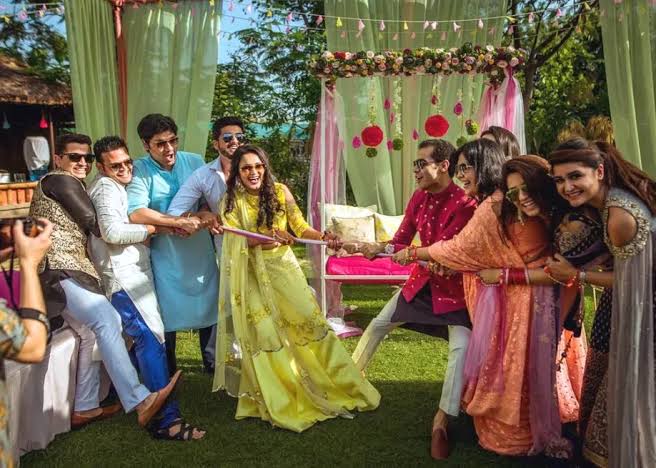 3. Saree tying competition
For that uncontrollable laughter riot, a sari tying competition between the men from both the bride and groom side would undoubtedly make for a kickass and funny Indian wedding game to incorporate in your soirees. Now obviously, seeing all 'dem men trying so hard to tie a sari is undoubtedly going to have everybody rolling on the floor laughing, literally.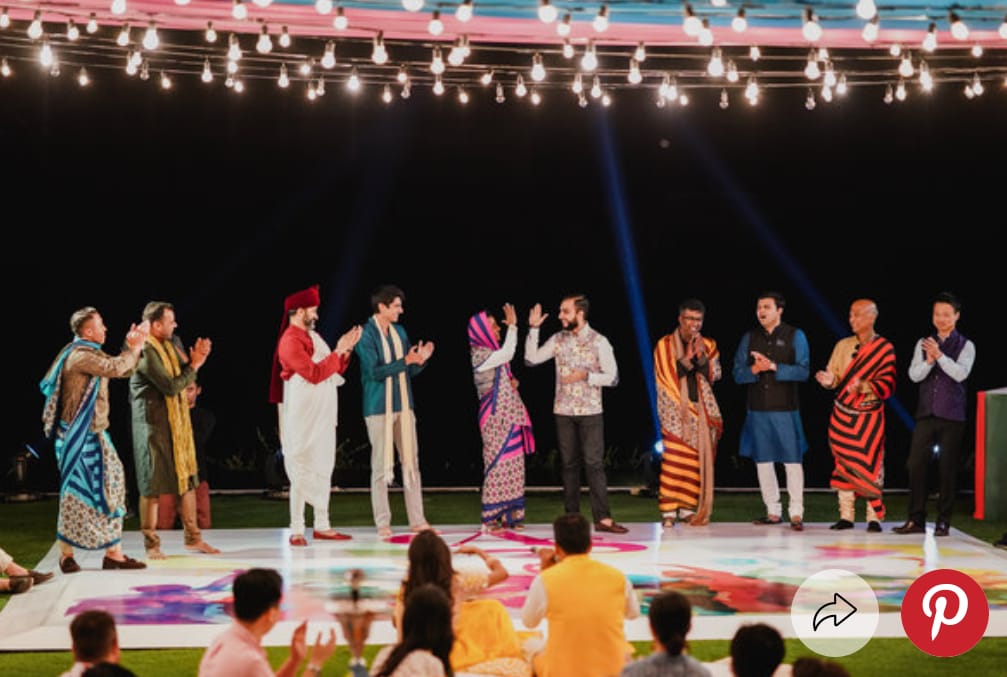 4. Name that song
This top Indian wedding game can be played amongst the ladkewala and ladkiwala. Have your DJ play just the initial tunes of some famous songs and whichever team makes the most number of guesses, wins! You can even incorporate doing the hook steps of those songs to further elevate the fun factor of the game.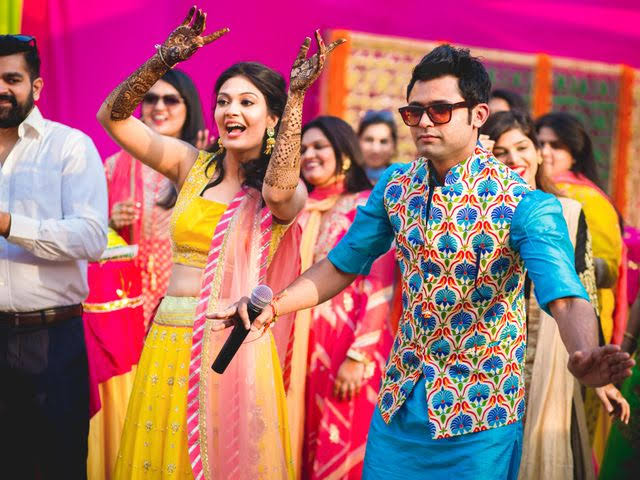 5. Identify your bride
As much of a joy this game is for everybody else to watch, it is basically a fun test for the groom. To play this, take a long piece of fabric or some saree and cut out a few holes horizontally (probably 6-7). The hole should only be big enough for a hand to be able to pass through it. Have a few women along with the bride stand on one side of the fabric with only their hands passing through the holes to be visible to the groom who is standing on the other side. And voila, now the groom has to identify his wifey's hands in one go!
6. Marriage wishes for the couple
Another way to have your guests actively be a part of your wedding is by setting a corner tree wherein, they scribble down the wishes for you. To make it more artsy you can have a tree or an installation setup along with for them to hang those wishes from.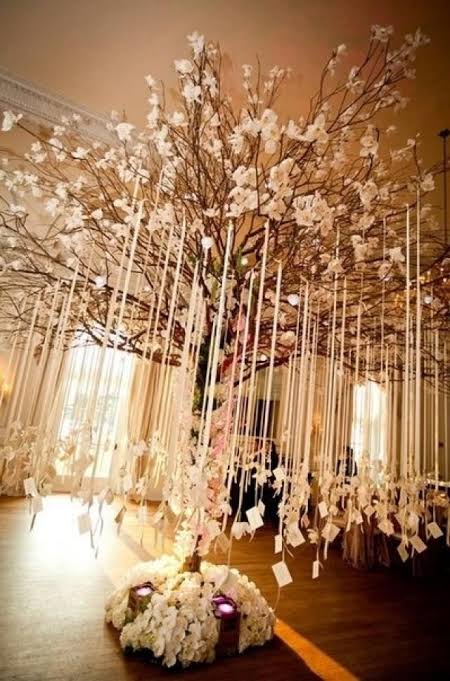 7. Spot Your Name
This game needs no introduction! In this game, the bride must incorporate the groom's name initials in her mehndi pattern, and the groom must swiftly discover his name initials in the mehndi design. If he loses, he'll have to give a special gift to his better half's at the wedding.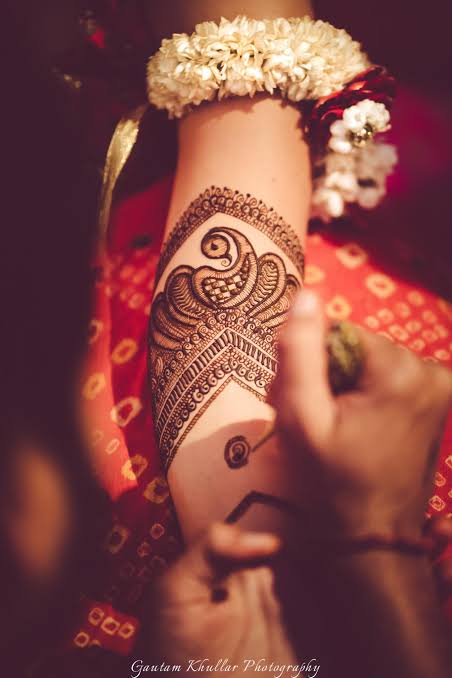 8. Ring Fishing
The classic Indian wedding game, Ring Fishing, is played at every wedding. Trust us when we say that when the bride and groom play this game, their family members are more excited than the newlyweds. In front of the married pair sits a large bowl filled with milk and a pinch of turmeric. The bride and groom wedding rings drop in the bowl. The bride and groom must use their free hand to locate the rings. Whoever discovers the rings first wins it.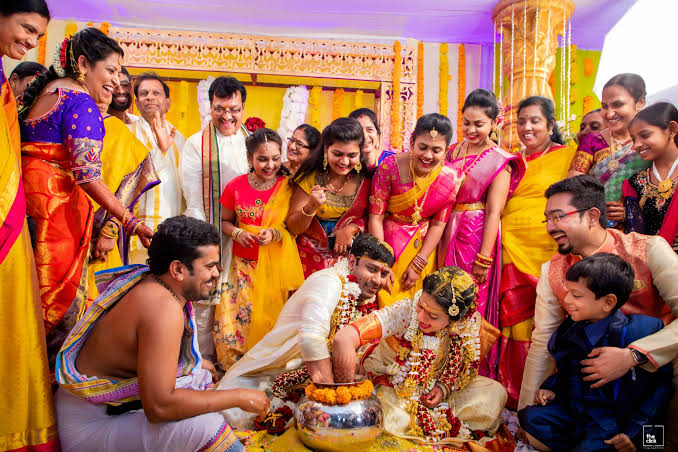 9. Treasure Hunt
Treasure hunt games are fun and exciting to play. These activities not only add fun and excitement to any party, but they also elevate it to a new level. All you need to do is make sure you have enough room to set up the game—the larger the area, the better the experience for everyone. The rules are straightforward: Prepare a number of clues or riddles for a treasure hunt and hide them across your wedding location. Divide the guests into groups and give each one a name. Give each group of guests the first clue card, which contains a riddle and directs them to the next challenge. Similarly, they will continue to look for new hint cards depending on the one they currently have, eventually leading to an exciting prize, surprise, or treasure!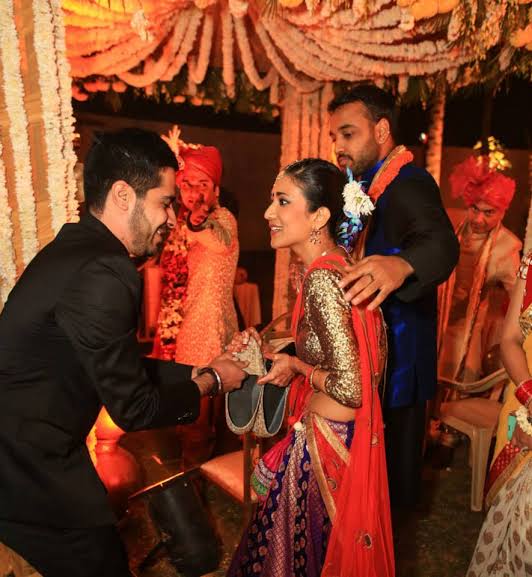 10. Cricket match
A game of cricket between the groom side and bride side is a super fun idea to have your guests enjoy the wedding a bit more. It's becoming a huge trend of late and so much so that even PeeCee & Nick Jonas were seeing playing this game on their mehndi ceremony along with their friends and families. In fact, you can host an entire cricket match brunch ceremony complete with personalized squad wise favours like caps, sunnies or even tees.